Specialising in chauffeur-driven passenger transport for personal and professional events (conferences, meetings, corporate events, seminars, etc.), we offer a tailor-made service for your roadshows.
We take care of the logistics for all your executives and employees' travel, from pick-up to drop-off, and provide you with one or more upmarket chauffeur-driven vehicles.
The Executive Driver Services team adapts to any changes in your programme right up to the last minute and ensures that you arrive at your destination in the optimum time and conditions.
On request, in addition to chauffeur-driven car hire, we offer a close protection service (security driver, bodyguards).
From the simplest to the most complex service, for a short- or long-term mission, our close protection agents will ensure your safety whatever the situation, while respecting confidentiality and privacy.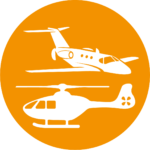 AEROPLANE AND HELICOPTER RENTAL
In addition to our chauffeur-driven car hire services, we also offer a plane and helicopter rental service. We can help you organise your trips to save you time and let you concentrate on the essentials.
Our expertise in aviation and our close relationship with our airline partners allow us to provide a solution that corresponds exactly to your trip and your budget.
Passionate about the world of travel, and with our experience and network in high-end services, we can help you organise all your trips, from doorstep to final destination.